Takeshi Aono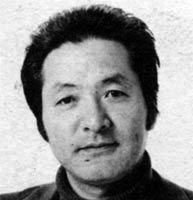 Takeshi Aono (青野 武, Aono Takeshi?) (June 19, 1936 - April 9, 2012) was a seiyū and actor from Asahikawa, Hokkaidō affiliated with Aoni Production. He graduated from Hokkaidō Asahikawa Higashi High School.
In May 15, 2010, Aono checked into a hospital for an aortic dissection and suffered a stroke shortly thereafter, ending his seiyu career.[1] He died on April 9, 2012 at 4:38 p.m. due to multiple cerebral infarction after an aortic aneurysm.[2][3]
His ongoing roles of Tomozō Sakura (Chibi Maruko-chan) and Kami (Dragon Ball Kai) were taken over by Bin Shimada. Hirohiko Kakegawa took over the role of Mihawk in One Piece.
Voice Roles
Edit
External Links
Edit
↑ http://www.animenewsnetwork.com/news/2010-06-26/voice-actor-takeshi-aono-hospitalized-after-stroke