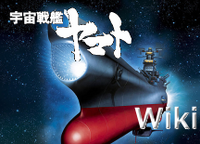 Welcome to the Space Battleship Yamato Wiki, an open, collaborative website that is striving to become a comprehensive English language encyclopedia of all things related to Space Battleship Yamato!
Space Battleship Yamato is a Japanese science fiction franchise that began in 1974 as an anime television series and has expanded over more than four decades into two sequel series, a reboot series, multiple anime films, manga, online comics, a live action movie, and other media. At the center of all these stories is the Yamato, an advanced spacecraft that ventures into the unknown to defend the planet Earth. Space Battleship Yamato is also well known to English language audiences as Star Blazers.

---

SPACE BATTLESHIP YAMATO 2202: WARRIORS OF LOVE
The sequel series to Space Battleship Yamato 2199 and Space Battleship Yamato 2199: Odyssey of the Celestial Ark is titled Space Battleship Yamato 2202: Warriors of Love (宇宙戦艦ヤマト2202 愛の戦士たち, Uchū Senkan Yamato 2202: Ai no Senshi-tachi), and is also known as Star Blazers 2202. The seventh volume of the series, "Nova Chapter," covering episodes 23 through 26, will be released in theaters in Japan on March 1, 2019.
As Yamato 2202 continues, please contribute new information about the series, and visit, contribute to, and create articles on the White Comet Empire, Teresa, Andromeda, "2201: The Yamato Returns!" and other topics from Space Battleship Yamato 2, and on topics from other Space Battleship Yamato continuities!
Which new United Nations Cosmo Navy ship or vehicle design introduced in Space Battleship Yamato 2202 is your favorite so far?
Click here to see previous poll results.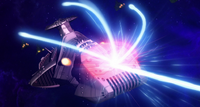 Domelaze III
was a
Zoelguut-class super dreadnought
named for Lieutenant General
Erich Domel
and serving as his flagship. With Colonel
Wemm Heidern
as the ship's captain, Domel commanded forces of the
Great Garmillas Empire
from the bridge of
Domelaze III
to numerous victories. In 2199, the ship directly engaged the space battleship
Yamato
in battle on two occasions, coming closer than any other Garmillan ship to destroying it.
Read more...

Loading RSS data...