Kenichi Ogata
緒方 賢一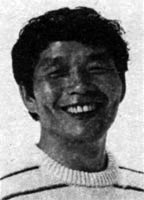 Kenichi Ogata (緒方 賢一, Ogata Ken'ichi?) (born March 29, 1942) is a male seiyū from Tagawa, Fukuoka, Japan. He used to work at Aoni Production and now is working at Production Baobab.
Kenichi Ogata was born on March 29, 1942. After graduating junior high school, Ogata studied cooking, and then went to high school, where he aimed to be a comedy performer, and worked for some theatrical companies. His voice acting debut was in Mazinger Z, and has been voice acting since.
He is known for his unique soft voice, but also for his astringent and villain roles, and has an established reputation for his role in Tensai Bakabon.
Voice actress Megumi Hayashibara pronounced him as the "Father of the seiyū world".
In 2199, his roles were all taken by Chō.
Voice roles
Edit
Sukeharu Yabu (eps 14, 25)
Scout Plane K-62 Pilot
Command Contol A
3rd Carrier Crew
17th Carrier Captain (ep 11)
References
Edit
Maeda, Hisashi. "The Official Art of The Melancholy of Haruhi Suzumiya". (November 2007) Newtype USA. pp. 133–139.
External links
Edit