Vice Admiral
Juzo Okita (沖田十三 Okita Jūzō)
: the stern captain of the
Yamato
, utterly devoted to his mission to save Earth from the Gamilus threat, even at the cost of his own life. He is in fact dying, and becomes increasingly ill during the course of the first season, but remains convinced that he will live to see his home world again. He regards Susumu Kodai almost as a replacement for the
son
he lost in battle, and sorely regrets his son's death in battle at Pluto, along with the apparent death of Kodai's older brother, Mamoru. Even when his illness leaves him bedridden, he remains a source of advice to the crew, and to Kodai in particular. In the movie Final Yamato, it is revealed that he was kept in cryogenic suspension for some time until the Earth physicians could revive him and cure his sickness. He then went on to lead the EDF again in its fight against the Dingirians.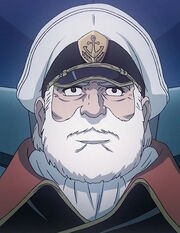 His Japanese name comes from real-life Shinsengumi captain Okita Sōji and Japan's founding father of sci-fi, Unno Juzo.[1][2]
He is based on Leiji Matsumoto's father, who was a Major in the Imperial Japanese Army Air Force and flew a Nakajima Ki-84 in Battle of Leyte Gulf.
Okita's response to to the Gamilans' demands of surrender are based on that of Anthony McAuliffe.
In the original series, Okita have shown tendencies of acting like other men with Analyzer's fan service actions. An example of this is when Yuki request the robot's circuit to be fixed to prevent skirt flipping on Episode 16 of Season 1, he unwittingly replied "It might not be a good idea to remove it," to which he immediately cover it up by saying we will discuss with Sanada about the repair.
In the remake series, there are times his hat covers one of his eyes. This makes him look like that he's lost one of his eyes and that he's wearing an eyepatch.
He died on his birthday in the remake.